Dreaming Love - a Tapestry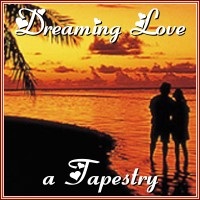 Dreaming Love - a Tapestry

... togetherness in a harmonious & hopeful world of
make-believe.
This song is the outcome of an online collaboration
- May / July 2005 -
between
Volker Zdunnek aka Philos60 form Gerrmany (instrumental part)
and Vikki Flawith from Canada - vocal & lyrics (c).
The instrumental part is totally improvised and live recorded at once.

Dreaming Love - a Tapestry

Lyrics(c)
When I see your smiling face,
there's no other place for me,
dreaming love

Side by side forever more
you and I dream love

Ah, you have awakened my heart
in a brand-new way,
so glad you touched me this way.

Dreaming love
side by side forever more
my heart is awakened in a brand-new way
I'm so glad you touch me this way

Dreaming love
Dreaming love

And I know you are mine forever,
forever dreaming love.

(c) 2005 VL Flawith [SOCAN, ASCAP]. All Rights Reserved.