S.A.M. Dew
Music & Art
Click on gif animation to get more!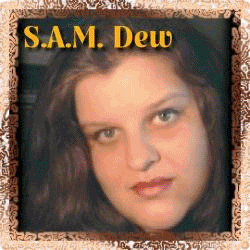 Music is my life! I knew it very early.
With the people I met - new music styles came into my life
surprises - I liked and loved.
Especially Soul, Funk and Ballads - but also Trance.
~
I live in the north-western part of Germany near the Dutch border
in a small town called Gronau.
At the moment I make music over the internet: Trance with my Online-Band One-O-One
and there is this wonderful piano player from Malta
- Clifford Borg -
I had some wonderful Live-Performances in Koblenz and near my hometown.
~
Somehow it is in the family ...
My Daddy was playing guitar in a band when he was young.
My Mom sang in choirs here and there in churches.

She also sang on a TV-Show here in Germany and won 850 Euros.
~
My Sister joined the Soul band right after me
and we had several performances in a big Jazz-, Soul-Club in Berlin.
~
Fact is:
listening to music, composing, singing -
those are the things I always wanted to do,
that I loved - almost everything else
was the necessary evil ...